Houston Screen Print is a full service custom screen printing and embroidery company operating in Houston, Texas.  We decorate a variety of apparel and products with your personalized artwork.
Since 2005 we have serviced thousand of organizations, teams, schools, events and businesses locally and nationally.  We understand that no two clients are the same so we work closely with each one to develope a unique design concept.  Screen printing is the medium to bring it to life!
With our in-house facilities and design team, we are your one stop shop that has its hands in every stage of production, start to finish! For creative, original, personalized apparel and products, Houston Screen Print invites you to try us on for size.
Houston Screen Print, a premier screen printing and embroidery company.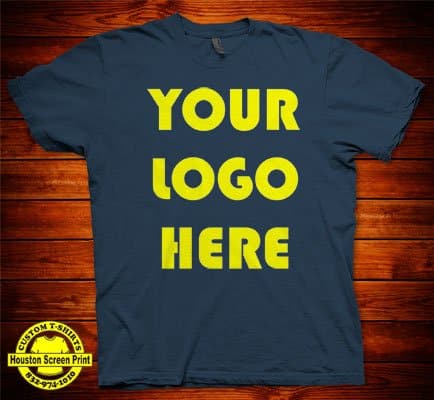 Houston Screen Print is your shop for getting your Custom T-Shirts screen printed.  We can take your design or logo and put it on a t-shirt.  From businesses to schools, organizations and individuals, Houston Screen Print has been printing Custom T-Shirts for over 13 years. 
We make the process very easy and offer 14 day turn around times on most Custom T-Shirt orders.  Once our design team gets your artwork, all that is left before printing is for you to approve the t-shirt mock up of your design.
Custom T Shirt Quote Form
Current Production Time Is: 14 Days or Less
What We Need To Get Started
What style of garment?
What color of garment?
How many shirts do you need printed?
How many colors in your graphic?
What locations on the shirt to print?
Special considerations you can think of?
What is the deadline for having shirts in hand
Tell us about your t shirt order
We provide a quote for your custom t shirts
Yes, I want them printed…We email you an invoice
You receive a mock up of your artwork on a t shirt for approval
Houston Screen Print schedules your screen printed t shirt order
We can ship them to your address
Why Custom screen printed T-shirts can be quite important to a company's branding and marketing.
Visibility: A company-branded T-shirt serves as a virtual walking billboard. When a wearer is out and about, they are promoting your brand to everyone they come into contact with, which raises brand awareness. Local communities can benefit most from this.
If you have employees, having them wear personalized T-shirts will help your company present a uniform image. It offers your business a more polished appearance and helps clients recognize your personnel.
Affordability: Screen printing is typically affordable, especially when done in large quantities. T-shirts have a relatively low cost per impression when compared to other forms of advertising.
Longevity: A T-shirt can be worn frequently over a lengthy period of time, unlike a one-time advertisement. This implies that as long as the T-shirt is worn, your brand's message continues to spread.
Personal Connection: When customers wear t-shirts from your business, they are supporting your brand. As a result, a personal connection is formed between them and your business, which may promote advocacy and loyalty.
Brand identity: Custom T-shirts can represent the look, character, and principles of your business. Both wearers and onlookers' perceptions of your brand identification can be strengthened as a result.
T-shirts are versatile and can be utilized in many different types of marketing initiatives. They can be distributed at trade exhibits or neighborhood activities, as prizes in contests, as a component of a loyalty rewards program, or in other ways.
Custom T-shirts are a great option for gifts and giveaways. They can be a good way to interact with customers, and everyone enjoys receiving gifts for nothing. Customers can buy them to use as promotional items, adding another source of income for your business.
Memorable: A well-made, premium T-shirt may make a strong first impression. A cool T-shirt design will probably stick in people's minds, which implies your brand will probably stick in their minds as well.
Word of Mouth: When someone inquires about the T-shirt, it invites a discussion about your company. Word-of-mouth advertising of this kind can be extremely beneficial.
Keep in mind that the quality and design of the T-shirts have a significant impact on the effectiveness of this marketing strategy. Make sure they're cozy, appealing, and accurately represent your company. To guarantee the design lasts as long as possible, high-quality screen printing is also crucial.